I've been doing lots of planning, I swear. First, the dress shopping so far:
Saturday, I went up to Hitched, in DC, then to Bella Rosa in Richmond, and finally, I stopped in David's Bridal.
Hitched was amazing. The attendant was helpful and professional and totally understood what I wanted, even when I was struggling to find out. There was no sales pressure, and she let me have my fun day - not worrying about finding the perfect dress, or even staying in the realm of the affordable. It was fun, and relaxing, and totally enjoyable.
I was able to try on several different types of dresses and figure out what looked good on me (as opposed to a model in a bridal magazine). I had an idea that what attracted me in the magazines would not work on my body, and I was right. The dresses that I liked on me looked nothing like any of my inspiration pictures.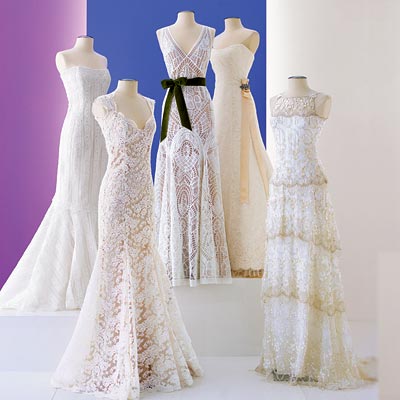 I started with pictures of dresses like these: all lace, slinky, v-neck, and fitted low. Not good things for my body.
I realized that I really liked dresses with rouching through the middle, with a natural waist, a-line, and often, sweetheart neckline. And I loved a little brooch or flower accent. I loved the drama! I also was surprised that I didn't mind a slightly busy skirt. Oh, and it definitely had to flare out higher up - none of this fitted around my hips stuff! I'm a little too curvy for that!
I found a couple of dresses there that I liked in that basic style. She wrote the styles down for me (and then I left the piece of paper at my friend's house - oops!), so that I could look at them online, since they didn't allow photos.
And then if was off to Richmond! Bella Rosa is also a boutique, but a little less shee-shee. The attendant was more sale-focused, and obviously younger and less professional (but still very nice). Still no pictures allowed, but she didn't let me have the info on the dresses either. She just wrote it down. I totally understand wanting to keep the sales in the store, but I really can't handle making a decision just in the hour that I have an appointment. And do they really want me coming back every time I want to remember what it looks like?! maybe.
I tried on several dresses of the same type that I liked at hitched, but a little closer to my price range. The one I liked best was under $1K, which I considered a victory. Gee, I wish I had a picture of it so I could share, or so that I could refresh my memory.
Finally, I hit up David's Bridal. I tried to fit it in that Saturday, but it was a madhouse. Instead, I dropped by last night after work, and it was much calmer. The salesperson was basically absent, and I was alone, so I had a long conversation with someone else's bridesmaid and she was kind enough to take pictures of me, and suggest things about the fit. There was only one dress I wanted to try on there (most of their dresses that fit my criteria are covered in applique lace/beading that I don't like). It was an Oleg Cassini. And I really liked it. And as the price was the lowest of anything I have looked at. That part was nice. And, oddly, although no one was with me, this was the first one that felt really good. I wasn't just looking at it in terms of which parts I liked - I liked the whole thing. I wish that it didn't have a giant bow in back, and that it did have buttons down the back, but I really liked the basics of the dress.
The process did allow me to pinpoint two ways to describe what I really am looking for: non-pornographic, and dramatic.
And so, after all of that, I come back to the first dress that I ever fell in love with - Joan Shum's Lady Catherine. Swoon. It has the band across the waist (not rouched, but still defining), a natural waist with a fairly high flare, gorgeous, dramatic details (hand-painted roses and a brooch), and lace. It definitely fits the bill for dramatic. The neckline and the lack of a train are the only drawback - it may qualify as pornographic on me (since I'm above an a cup). Oh yeah, and that $5K price tag.
And so, I'm faced with the dilemma. I have had two places recommended - one that is a seamstress who creates dresses from photos of designer dresses (an obviously, can adjust things) for significantly less, and the other who sources knock-offs for you. I love the idea of actually being able to afford a dress like this, but I feel a little skeezy about it. I do know artists, and I'm very protective of them, and think that they absolutely deserve every cent that they charge. So is the knock-off route really the way I want to go? Doesn't Joan Shum deserve to be compensated for her amazing creativity and time designing the dress? (Not that I can afford to do so, no matter how I shift the numbers around.)